Tuesday, November 29, 2011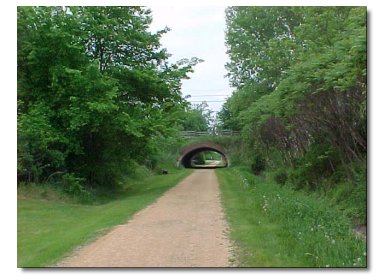 La Crosse River State Trail is a 21.5 trail along the La Crosse River, a tributary of the Mississippi River here in the La Crosse area. It is one of four state trails; the other three are The Great River, Elroy-Sparta, and the "400" state trail. Together, the state trails cover more than 100 miles.
La Crosse River State Trail links the Great River State Trail with the Elroy-Sparta State Trail. An active rail line runs parallel to a portion of the trail. The river trail was developed from abandoned railroad lines from the Chicago and Northwestern Railroad.
The trail's countryside comprises prairies, wetlands, forests, streams, and farmlands. There are also a number of parks and campgrounds along the way. The trail itself is composed of packed limestone screenings and bridges. Bicyclists, hikers, anglers, and other outdoor enthusiasts enjoy the river trail from spring through fall, with snowmobiling and cross-country skiing popular in winter months. Guided prairie tours are available, and begin in Rockland.
La Crosse River State Trail connects the villages of Sparta, Rockland, Bangor, West Salem, and Onalaska, from east to west.
Sparta is known as the "Bicycling Capital of America" and Rockland is a small agricultural community.
Bangor was home to Winnebago Indians and later to Welsh residents. An inscribed sandstone cliff runs along Dutch Creek south of Bangor park.
West Salem's historic locations include the Hamlin Homestead, which belonged to Hamlin Garland, a Pulitzer Prize-winning author, and the architecturally-significant Palmer-Gullickson Octagon Home.
Onalaska is surrounded by wooded bluffs that overlook the Mississippi River Valley in the Coulee Region, which is known as a "driftless area" from the time when glaciers bypassed the region. Lake Onalaska is a four-mile wide reservoir on the Mississippi River.
The villages that lie along La Crosse River State Trail have a number of amenities for trail trekkers, including bed and breakfasts, motels, bike repair and service shops, and restaurants and cafés.
There are more than 100 camping sites along the La Crosse River State Trail which include shaded areas, electrical hookups, sanitary stations, drinking water, hot showers, a camp store, fishing pond, playground, and canoe landing. Veterans' Memorial County Park & Campground is located between Medary and West Salem. State trail passes and camping permits are available through Wisconsin State Park System.